Rachana Goyam - Interior Designer
Why should you hire Experienced Interior Designer?
Updated: Sep 16, 2020
Being Into Interior Designing for past 9 years

has thought lots about on field detailing. From distributing the visual weight in a room to selecting right material and textures.

Interior design is a process that provides customers a sense of aesthetically pleasing environment with efficient solutions for a better use of the space. The goal of interior design is to improve the user experience by better managing the space available in the intervened environment.
1. They will Avoid confusions
Many people think of hiring a fresher or an intern who hardly had any practical work experience in order some save some money but this can lead them to a serious disasters. With resources like Pinterest and Instagram, there are literally millions of inspirational home design photos at your fingertips. One day you might decide you want a traditional kitchen, but the next day you see a beautiful modern kitchen and change your mind completely. This can happen over and over again until you become design-decision-paralyzed. For this hiring an experienced designer would be best to understand your needs and execute them.
2. They will Get your requirement right


Typically designing Indian homes are different from west. Indian homes need lots of storage provision, were they can organized things which will be used once in a while or may be not used at all. Kitchen need good storage as traditionally lots of our client get groceries stored for 6 months to 1 year once for all.
An interior designer has the skills to help you define your style, and incorporate it into their design plan. By asking the right questions, and showing you options, a designer will help you finalize a design concept that fits your taste, lifestyle and personality.
From ordering items, directing vendors, and keeping track of budget; your interior designer takes over all the complicated day-to-day operations so that you can focus on the final result—a beautiful home!
3. Save money by Avoid costly mistakes


We have seen cases were clients, prior to working with a designer, have purchased items on their own that aren't right for their home, or just don't fit. And even the fresher's who are new to field work lack experience and don't actually get the right understanding. Working with an Experience designer can make these sorts of high-impact decisions less daunting.
How often have you ordered something online for your home, only to have to return it because it's the wrong size, wrong color, or simply doesn't quite look the way you envisioned it? Unfortunately, design mistakes are common. And the ordering and returning process is time-consuming, expensive, and frustrating. An experienced interior designer has the experience and knowledge to help you make the right decisions the first time.
4. They will Let the work flow with the ease
When designing home or office it is not one man show. There are various vendors involved in it. Hiring a painter, plumber, carpenter and other vendors can be difficult. Getting reviews, checking with friends, and collecting information to finally find someone you trust to do the job right. When you hire an experienced interior designer, they already have a list of preferred vendors that you can rely on to provide quality work for your project. Plus, those trusted vendors will likely give their best price to your designer, knowing it will lead to more work in the future.






5. They will Save your time and energy
As they have already tried and tested many things over the years. You also have to take care of the work, home and other personal commitments. So to lessen the burden, hire an interior designer. They give you best designs as long as you will pay them rightly. You will be surprised to arrive in a beautiful home when all work is done. You might even wonder if you are in the right home!
6. Let the Pro lead


Experienced Interior designer has a much customized work pattern were attention varies from space to managing various agencies. Most of the time, an interior designer knows what is best for a room. One look at a space and they have magically created a beautiful interior in their mind. Before you even tell them what you exactly want, they already know what is good for your space. Upon hearing your design preference, they would be able to adjust on your needs but still make it all look good. They can even give better suggestions for you.
7. Updated with latest trends and products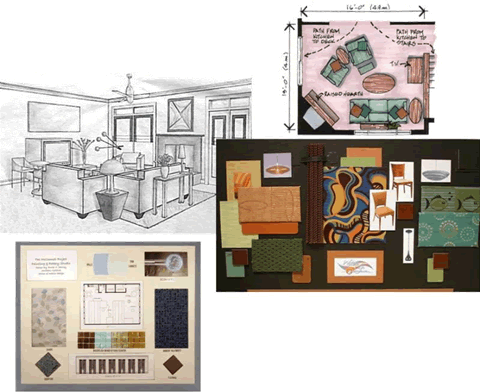 As pro designers, they always have their fingers on the pulse of the latest developments, products and suppliers in the industry. They are closely associated with the suppliers that they even get samples of veneers and other decoratives showcased at site. Which not only save clients time but also make them visualize better. They see new designs and new information every single day, and they incorporate countless years of knowledge and expertise into our concepts for both new and existing living spaces.
8. Get wow factor
Designers can help to give you the "wow" factor you've been looking for. With over the years of experience designer are trained to think differently, spatially and to see an overall picture that clients often cannot.
While many homeowners tend to focus on what they can see in front of them, professionals know how to look ahead. For example, most interior designers agree a timeless aesthetic will fair far better in the long run than an extremely specific or stylized concept.